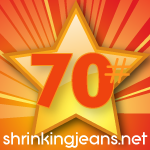 Hehe well technically 71.2 pounds :)
This has been a long journey and I honestly still sit here sometimes and just do not really believe it. I look at my little
weight watchers
journal in disbelief and awe. It has been 8 full grueling months, it still feels like yesterday I was staring at the large image in front of me and crying because I was so out of touch with myself. I literally hated myself and had for years. I literally did not even imagine this fit self hiding there under the fat and unhealthiness. I never ever in all of my fat days ever imagined I would see this day.
This glorious day it is finally here. I know it is not the end, for me it feels like a new beginning. I truly do not even feel like the same girl that walked into that meeting 8 months ago. I hold my head higher when I walk and I look forward to daily things. It is not all because of the weight loss, for me this has been an emotional journey as well.
I have learned to love myself and my body for what it is, a power house capable of anything. My body can do things I always said impossible like run, lift weights and do it with joy! I have learned that I do not need food to make me happy or even to celebrate or comfort me when I am depressed. I now sense the urges to binge and chase them away with exercise. It has been harder to mentally change than it is to physically change. This is something I will always keep in my mind. Your body will change if you eat less, work out, and take care of it, but your mind it needs to change as well. If you do not work on that then the hard work will be futile in the end. It has been about changing my entire relationship with food and it has been hard but I am determined to do it.
And I am starting to realize that it is OK to have a big main goal because I will make it. So I will work on making it very soon in the next few weeks and be sure to share with everyone. For now I am looking towards getting my BMI to just over weight. My BMI was at 42 and now it is finally at 30!! By the time I reach 75lbs lost then it should be 29 and just over weight. According to the BMI standards a healthy weight range for me is between 114-144lbs. Right now I am still considered obese by the BMI standards.
So here is the lovely little sticker I cannot stop staring at :)
It is a lovely sight. I am so happy and elated and I am on cloud 9. And of course there was a celebratory gift!!! I have been talking and thinking for weeks about new running sneakers. It was long over due, I have had my current sneakers for 5 or 6 months. Way way overdue hehe. So I enjoyed a day off with the family and we went shopping :) I got the New Balance sneakers I have been drooling over for awhile now:
I am itching so bad to try these babies out! Today is rest day so I cannot :( I will be running in them tomorrow though for sure!!!!
Before I forget
Shrinkvivor
! Sorry this post has become a small novel LOL but I have to share my stats and I am keeping fingers crossed that I make it into the top 7. I feel I have worked so damn hard for it lol. Even if I don't make it in I know it was so much fun and I made some awesome new friends and learned so much about myself. I started weighing
197.8 pounds
7 weeks ago. I lost a total of 16.4 pounds during the challenge! That is 8.2% of my body weight that I lost!
That is all for now :)